The 3rd Japan Cultural Envoys Debriefing Session held on the theme, "Conveying the Spirit of Japan."
On March 8, 2006, the 3rd Japan Cultural Envoys Debriefing Session was held at Cerulean Tower Noh Theater in Shibuya, Tokyo, with the attendance of the Imperial Prince Akishinonomiya Fumihito and the Imperial Princess Mako.
The Agency for Cultural Affairs has been appointing people committed to cultural activities, such as artists, cultural specialists and so on, as "Japan Cultural Envoys". This undertaking aims to deepen the international community's understanding of Japanese culture, and to build connections between artists and cultural experts in Japan and abroad.
At this debriefing session, participants heard reports from Cultural Envoys who had finished their missions overseas, as well as Japanese students who had hosted foreign cultural envoys. As part of the program, current Cultural Envoys appeared on video and a Noh Performer, Haruhisa Kawamura, demonstrated a Noh play.
The session was attended by Cultural Envoys Yoko Sugi (actress, visited the United States), Hiroko Inoue (formative artist, visited Austria), Joji Hashiguchi (photographer, visited Germany), Ken Murai (theatre critic, visited Russia), and Haruhisa Kawamura (Noh performer, visited the United States), and students Yusuke Yanagisawa from the Akita Prefectural Katsuhira School for Special Needs Education, and Taeka Yamamoto from the Aichi Prefectural Meiwa Senior High School. Tetsuji Honna (conductor, visited Vietnam), Oriza Hirata (playwright and stage director, visited Canada), and Sanyo Kanda (Kodan storyteller, visited Italy) participated through video.
Cultural Envoys shared their stories on local activities overseas, challenges they faced, and their outlook for the future using video and photos. Yanagisawa and Yamamoto, who hosted foreign musicians at their schools (German trumpet ensemble and Belgium tango quintet), also shared their candid impressions of what it was like to experience live music up close.
The venue was almost packed, and filled with the enthusiasm of people listening to the Cultural Envoys' passionate reports.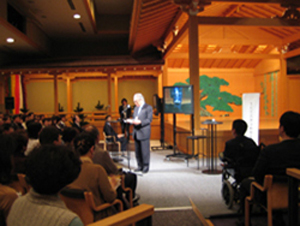 Greeting from Hayao Kawai, Commissioner for Cultural Affairs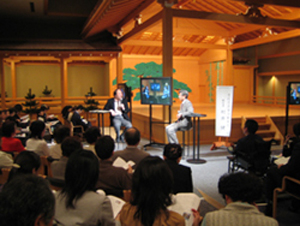 Activity report in front of the Noh theater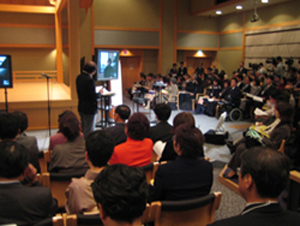 The venue was packed.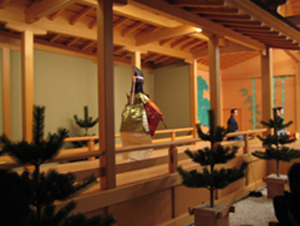 Demonstration of a Noh play, Funa Benkei
by Haruhisa Kawamura (1)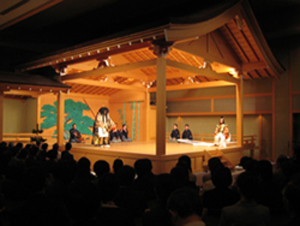 Demonstration of a Noh play, Funa Benkei
by Haruhisa Kawamura (2)