The 4th Japan Cultural Envoys Debriefing Session held on the theme, "Conveying the Spirit of Japan."
On March 2, the 4th Japan Cultural Envoys Debriefing Session was held at the auditorium of the National Art Center, Tokyo, which was opened in January this year with the attendance of the Imperial Prince Akishinonomiya Fumihito.
The Agency for Cultural Affairs has been appointing people committed to cultural activities, such as artists, cultural specialists and so on, as "Japan Cultural Envoys". This undertaking aims to deepen the international community's understanding of Japanese culture and to build connections between artists and cultural experts in Japan and abroad.
At this debriefing session, participants heard reports from Cultural Envoys who had finished their mission overseas as well as teachers and students of the Tokyo Metropolitan Fuji High School who had hosted a foreign cultural envoy. As part of the program, Sanyo Kanda (Kodan storyteller) and Ikuo Mitsuhashi (stage director) performed for the attendees. The venue was decorated with displays of flowers arranged by a flower artist, Shunko Kawai.
Cultural Envoys, Etsuo Genda (professor at the Graduate School of Design, Kyushu University, visited Korea and China), Shunko Kawai (flower artist, Ikenobo Society of Floral Art, Tokyo, visited Spain, France, Sweden, and Italy), Sanyo Kanda (Kodan storyteller, visited Italy), Ikuo Mitsuhashi (stage director, visited France, Madagascar, etc.), and representatives from the Tokyo Metropolitan Fuji High School attended the session. The panel discussion was attended by four Cultural Envoys, and Mayumi Miyata, who was a Cultural Envoy in FY2004 and specializes in Gagaku and Sho performance.
The Cultural Envoys shared their stories of local activities overseas, challenges they faced, and their outlook for the future. A representative from the Tokyo Metropolitan Fuji High School who hosted a foreign theatrical director, Aubrey Mellor (Director of the National Institute of Dramatic Art, Australia), also shared their excitement when they received practical theatrical training and directions from him. Among the Cultural Envoys who were assigned in FY2006, Oriza Hirata (play writer and stage director, visited Canada and the United States), and Tetsuji Honna (conductor, visited Vietnam) participated in a video and reported on their activities. In the panel discussion, participants shared opinions and requests for future Cultural Envoy activities and discussed how the activities will be utilized in the future.
The venue was packed, and filled with the enthusiasm of people listening to the Cultural Envoys' reports.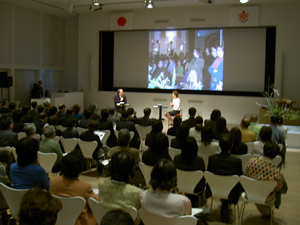 Venue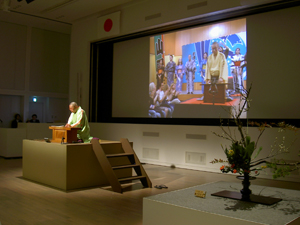 Report by Sanyo Kanda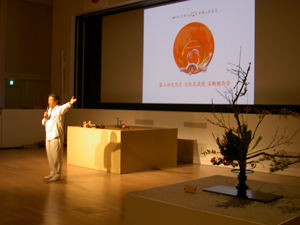 Demonstration by Ikuo Mitsuhashi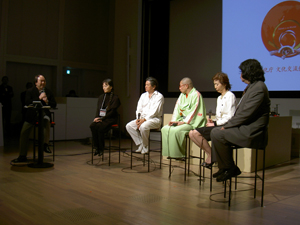 Panel discussion