What is Bunkaru?

Bunkaru is a web-based public relations magazine published by the Agency for Cultural Affairs.
You can find information about the efforts of the Agency, as well as event news for the Agency and National Cultural Institutions.

The meaning of Bunkaru
Bunkaru is a combination of the Japanese and English words for culture (bun-ka and cul-ture, respectively). We hope that this name, which is easy to read in Japanese and English, will allow the site to be enjoyed by a wide range of audiences. We hope that readers of Bunkaru will become interested in the cultural concepts featured here, as well as the Agency itself.

Frequency of updates
The site will be updated on a monthly basis (planned), though the frequency and timing may differ according to the article. All the latest updates will be announced through Twitter (@prmag_bunka), so please make sure to follow us (Japanese only).
* Please see the operating policy here here

(PDF, 340KB; Japanese only).

About the mascot
Bun-chan is the mascot for Bunkaru.
Culture is the basis of imagination and creativity and is important for the development of both. Bun-chan was conceived as a white-colored character that does not resemble any living creature, so that readers can freely exercise their imagination and creativity. The mouth is in the shape of the Japanese character for culture.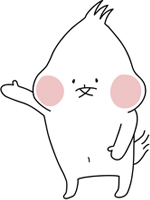 Bun-chan

Site content
The contributions and statements made on this site preserve the freedom of expression of the writer, and are used as is whenever possible. Please keep in mind that interview-type articles are often posted as is.
May 2014, Agency for Cultural Affairs, Secretary of Secretariat, Policy Division for Cultural Public Relations, Regional Cooperation Office, Cultural Public Relations System