August 3, 2015
Pika-Boko: A Family Pottery Gallery,
Enjoying pottery through onomatopoeias
Yoko Imai, Principal Investigator, The National Museum of Modern Art, Tokyo
Shiny, bumpy, sandy...have any of these words crossed your mind when looking at pottery? The Japanese language is full of mimetic and onomatopoeic words that express sensations such as these. In this exhibit, we will look at the texture of pottery through Japanese onomatopoeic words.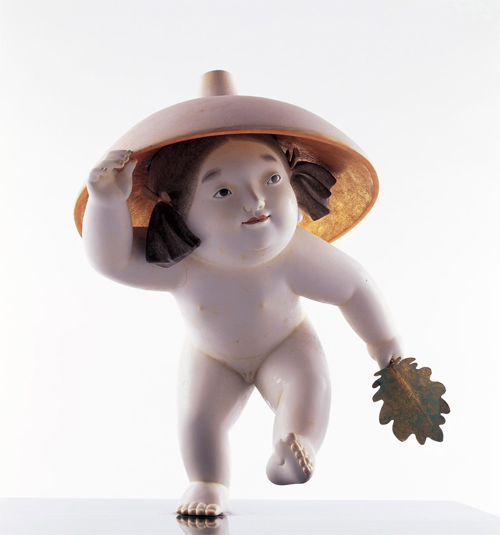 Mitsuhiko Noguchi, Boyhood: Lord Romping in the Rain, 1964
The National Museum of Modern Art, Tokyo
Photo: Taku Saiki
There are many ways to enjoy pottery, including color, shape, history, and regional characteristics, as well as pursuing the sense of touch that is pleasing to the eyes and hands. However, textures play a large and important role in our appreciation of pottery. Textures can help us avoid being cold or hot, and can be hard and sturdy or supple. Textures are versatile elements that can adapt to different environments or personal preferences. Despite our ability to perceive a large amount of information about texture, it is difficult to quantify. This is because the values differ quite significantly depending on who is doing the measurement.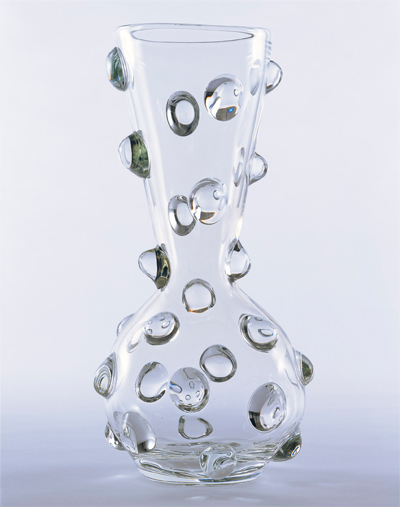 Yoshihiko Takahashi, Bottle with Dots, 2010
The National Museum of Modern Art, Tokyo
Photo: Taku Saiki
Here is where I would like to focus on onomatopoeias. Seemingly childish words such as "pika-pika" actually capture the essence of pottery quite directly through the rhythmic lyricism of the words, as well as their etymologic origins. Of course, there is a degree of subjective sensation captured in these words, but this is even more reason to view sensation from a variety of different angles.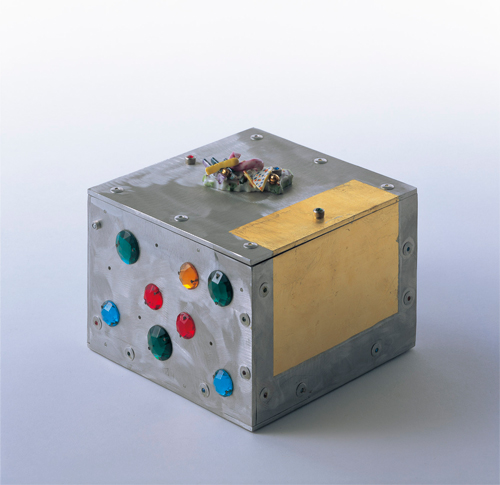 Jun Kawaguchi, Box, 1991
The National Museum of Modern Art, Tokyo
Photo: Taku Saiki
In this exhibit we have gathered items that focus on visual textures, especially how the light plays off a work of art, through Japanese words such as pika-pika (sparkly), suke-suke (sheer), and tsuya-tsuya (glossy). We also have a collection focused on tactile interaction, through words such as boko-boko/gotsu-gotsu (rugged), sara-sara/zara-zara (sandy), and darari/jiwari/sube-sube (ooze/smooth). We hope that this exhibit will provide an opportunity for you to deepen your appreciation of pottery by coming up with your own onomatopoeias or finding items that fit the descriptions.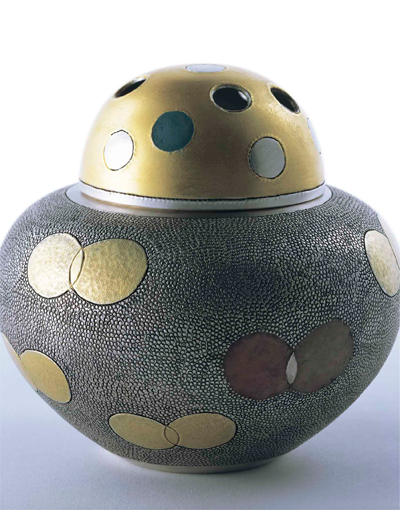 Shiro Naito, Butterfly and Bubbles silver incense burner, 1984
The National Museum of Modern Arts
Photo: Taku Saiki
This cooperation with language gives us a way of appreciating art with increasing focus. Awaken your senses and enjoy the wonderful textures of pottery, while muttering and thinking about the onomatopoeias. We have prepared a stamp passport with a self-guide for children to complete as they feel their way through the pottery, and a self-guide with detailed information for adults. We recommend you use these tools and share your thoughts and findings with friends and family!