April 1, 2015
In this series of publications, we will have foreigners who are learning Japanese across the country and are active in their respective communities talking about the charms of their region, the language, the culture, and learning the Japanese language. We hope to shed some light on how people of various backgrounds learn Japanese and experience life within Japanese society.
< Kawasaki City, Kanagawa Prefecture >
Zhang Min(born in China),
Nonprofit organization Educational Activity Comprehensive Support Center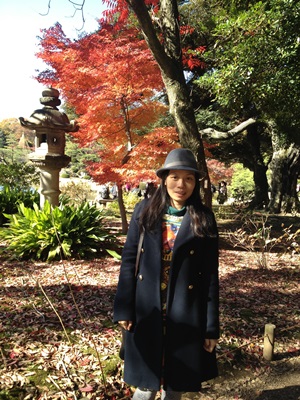 1. In Kawasaki City
Nice to meet you, I am Zhang Min. While I was travelling to Yunnan in 2006, I met Yoshinori Kobayashi, a Japanese language instructor at Yunnan University, in the city of Lijiang. It was love at first sight. I gave up my job as a journalist as well as my stable life, and married him in 2007. In 2009, I moved to Japan.
When I first came to Japan, I did not understand a single word of Japanese. I come from the southernmost town of China called Yulin in Guangxi province. The town had no Japanese language school for adults, so I was not able to study. At that time, there was very little information about Japan, and I did not know anything about the language or culture.
After three months in Japan, I was studying Japanese all the time, through several classes, including Saiwai Japanese Language Class and Japanese World held at Saiwai Community Center in Kawasaki City, Kawasaki City Fureai Center Literacy Class, the Tsurumi International Exchange Group, and Tsurumi Fun with Japanese Group. In five years, I went from zero to being able to write proposals for the Saiwai-ku Multicultural Cohabitation Promotion Project Committee.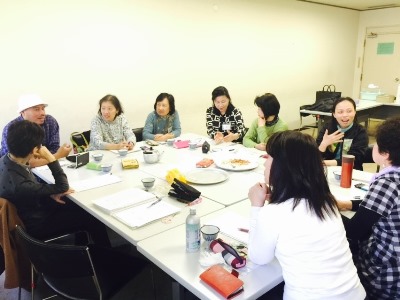 A class at Japanese World. Zhang Min is second from right, enjoying the activities.
The Saiwai-ku Multicultural Cohabitation Promotion Project Committee (the Committee) is a cooperative project with the Saiwai Community Center. It is composed of Japanese, Korean, Chinese, and Bolivian members who meet monthly to plan how to use the budget provided by Saiwai-ku. The goal is for Japanese and foreigners to live together by acknowledging and understanding the differences between them.
For example, our activities have included multicultural concerts, festivals, and trains. I also became a member of the club Tonton, the Saiwai international child-rearing group, and introduced Chinese cooking to the group at the Saiwai Community Center, Hiyoshi Branch. Through these activities, I started to understand Japanese culture and habits. My small world slowly started to expand.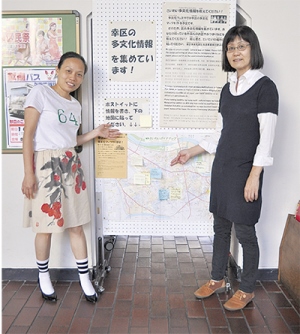 I made a multicultural map at the Saiwai-ku Multicultural Cohabitation Promotion Project Committee. It highlights the diverse residents, shops, and communities of Saiwai-ku.
I grasped the basics of Japanese, but it was still difficult to share my deeper feelings in Japanese.
2. Digital Storytelling (DST)
I first learned about DST in 2014 at the Saiwai Community Center. DST is a social education movement that started in the US and has now spread to the rest of the world. Participants make a video talking about their own experiences through a script that they write on their own. Once the video is made, a screening party is held where the video is shown to an audience.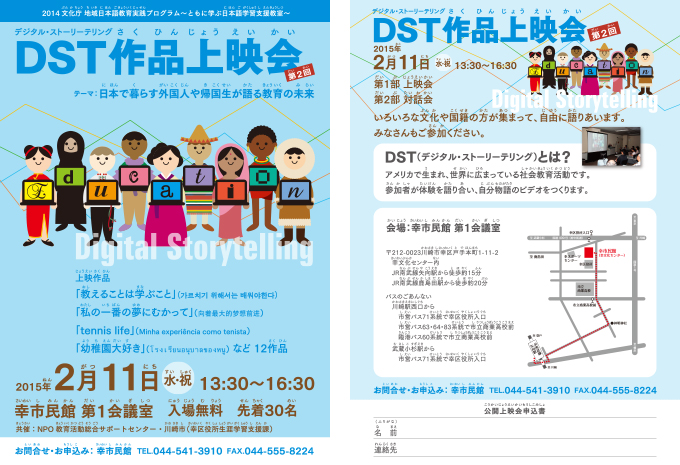 Advertisement for a DST screening party
I have made three videos so far. In the first video, I talked about the hardships of coming to Japan. I wanted to share this with the members of the committee so I did not make this video public. The second video was about childhood memories, and I talked about each memory tied to a particular photograph. It was like watching a movie of me growing up and was very rewarding. I came to like DST even more.
The topic for my third video was education. I wanted to organize my thoughts and record the changes I underwent, as I wrote about the five years of studying Japanese. I struggled on my own for a long while. My spirit was broken after experiencing many hardships. My state of mind was like a garbage dump. I couldn't clean up the garbage in my mind and I needed to organize my thoughts.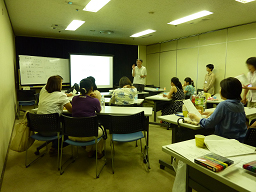 Learning about the flow of DST.
But the Japanese volunteers involved with DST helped me sort out the mess in my head. For example, in the mind map that I developed, I wrote that in 2012 I returned to China for the first time in three years, and in 2013 I began studying intermediate level grammar. The volunteers asked me about these events, but I answered that they didn't mean anything in particular. However, 2 weeks later at my house, I remembered a story that my close friend told me. She said that my hometown was five to six times more developed just as I wrote in the newspaper article, and was impressed by my foresight. When I told the teachers at DST of this story, they told me that I probably forgot myself as I was back then because I was so focused on my journalist job. Others around me remember though. "My students use some of the things I said as their motto back from when I was a teacher at school, long after I had forgotten what I said. But at that time, I was focused on my work too." After hearing these words, I felt like I wanted to try again and get back my focus. I wanted to discard the hardships and things I didn't like from my head, and hold onto all of my positivity, so that I could return to my former self and focus on putting my heart and soul into my studies.
In this way, the final sentence of my third video was completed.
"Many things have happened, and although it might sound cliché, I plan to look forward. Being discriminated is tough. But the important thing is not to compare yourself to people, but to compare your past and present self and ask "How have I grown? Have I reflected on myself? Have I studied? I think this is the most important thing." This is how I expressed myself in the third DST. I was able to clean up the mess in my head.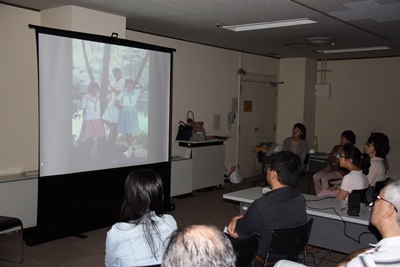 A DST screening party. Zhang Min's works is being shown in this photo.
3. Understanding each other and living together
I think it is important that foreigners have the chance to tell the Japanese about themselves and their countries. About two and a half years after arriving in Japan, there was an incident while participating in some activities where I was misunderstood, which lead to a great commotion. They started to doubt my abilities and questioned my participation. I was even told "You've been here for two and a half years and you still can't speak Japanese? Study more!" Obviously, I felt a little depressed.
I think it is difficult for foreigners to convey to Japanese people how long it takes to be able to have normal conversations and how difficult that road can be. I went to five different Japanese language classes, participated in many volunteer activities, and was finally able to converse after four years. But there are people around me who still cannot speak fluently after 10 years of studying. Unless we, as foreigners, tell the Japanese, I don't think these kinds of hardships will be noticed.
I made three videos for DST in 2014, and each time I think my composition was a little stronger. I also gained some new perspectives.
Now, I am deeply moved when I look back on five and a half years of living in Japan.
Through DST, I was able to communicate more intimately with the Japanese people around me. I want to tell Japanese people more about foreigners, so that together, we can create a better society. I would like us to be able to live together, helping each other out in this new era, with new ideas, and through new relationships.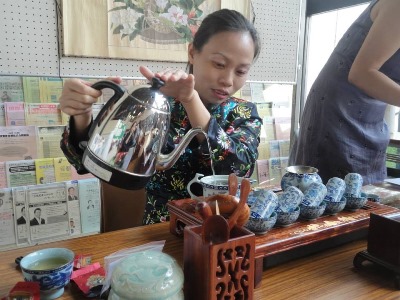 The Chinese tea ceremony.
< Nonprofit organization Educational Activity Comprehensive Support Center >
- Saiwai Japanese Language Class (Saiwai Community Center)
- URL:
Saiwai Community Center:
http://www.city.kawasaki.jp/saiwai/category/96-11-1-0-0-0-0-0-0-0.html

DST Research Center:http://www.learning-v.jp/dst/
- 2014 Agency for Cultural Affairs Trust Organization for Japanese Language Education Program for "Foreigners Living in Japan"
"Learn Together Japanese Language Learning and Support Project"