The 5th Japan Cultural Envoys Debriefing Session held on the theme, "Conveying the Spirit of Japan."
On March 13, 2008, the 5th Japan Cultural Envoys Debriefing Session was held at the Sogakudo Concert Hall of the Tokyo University of the Arts. The Agency for Cultural Affairs has been appointing people committed to cultural activities, such as artists, cultural specialists and so on, as "Japan Cultural Envoys." This undertaking aims to deepen the international community's understanding of Japanese culture, and to build connections between artists and cultural experts in Japan and abroad.
At this debriefing session, participants heard reports from Cultural Envoys who had finished their mission overseas, and enjoyed demonstrations by a traditional Japanese dancer, Tomoko Katsumi and a Bunraku and Shamisen performer, Tomisuke Toyozawa. Rakugo specialist, Koharudanji Katsura performed the "Otamaushi" story with English subtitles, and gave an introductory lesson on Rakugo, including how to use props. Cultural Envoys shared their memories with vibrant expressions. Heidi Potter from the Japan Society visited from the United Kingdom, and shared how a hosting country viewed the Cultural Envoys' activities and presented the roles that Cultural Envoys were expected to play in cultural exchange between the United Kingdom and Japan.
The session was attended by a total of eleven Cultural Envoys: Yoji Sakate (playwright and stage director), Wahei Tatematsu (writer), Sakae Terai (Noh Kanze School, Shite actor), Naoko Terauchi (professor of music at Kobe University Graduate School of Intercultural Studies), Bokunen Naka (painter), Susumu Nakamura (Bonsai artist), Yukei Miura (flower artist) and Azuma Yuyama (Japanese style painter). They reported on their activities in various parts of the world and how locals responded to them using photos and video footage of the activities.
The panel discussion that followed was attended by everyone, and participants shared the challenges they faced and the creative ideas they had to incorporate from the perspectives of their own fields including traditional performing arts, literature, theater and fine arts.
The venue was filled with some 320 audience members who listened to the reports of the Cultural Envoys with enthusiasm.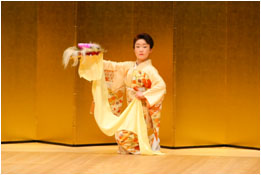 Demonstration by Tomoko Katsumi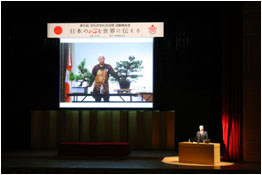 Report by Susumu Nakamura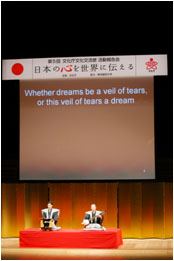 Demonstration by Tomisuke Toyozawa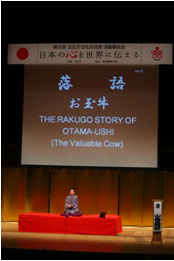 Demonstration by Koharudanji Katsura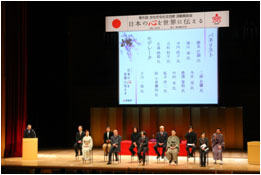 Panel discussion