The 6th Japan Cultural Envoys Debriefing Session held on the theme "Conveying the Spirit of Japan"
The Agency for Cultural Affairs held the 6th Japan Cultural Envoys Debriefing Session at the auditorium of the National Museum of Western Art on March 3.
The Agency for Cultural Affairs has been appointing people committed to cultural activities, such as artists, cultural specialists and so on, as Japan Cultural Envoys. This undertaking aims to deepen the international community's understanding of Japanese culture, and to build connections between artists and cultural experts in Japan and abroad.
Following a welcoming address by Commissioner for Cultural Affairs Tamotsu Aoki, participants heard reports from the Cultural Envoys who had finished their mission overseas, and enjoyed demonstrations of English Rakugo by a Rakugo specialist, Kaishi Katsura.
The session was attended by Cultural Envoys including Hiroshi Honma (Shogi specialist), Umon Tachibana (Yose-moji calligrapher), Naohiko Umewaka (Noh performer (Shite) and professor at Shizuoka University of Arts and Culture), Mamoru Nakagawa (holder of the Important Intangible Cultural Property, Chokin metal inlay, individual recognition), and Hideki Enda (Igo/Shogi specialist) (listed in order of appearance).
At the end of the session there was a panel discussion with all participants, who shared their experiences as Cultural Envoys.
A total of 70 audience members, including people involved in cultural exchange or associated with culture and arts groups, listened to the reports of the Cultural Envoys with enthusiasm.
There was an informal gathering at a room in the National Museum of Western Art after the debriefing session in which the Cultural Envoys who attended the session, previous Envoys, Mr. Aoki and, other senior members of the Agency for Cultural Affairs met.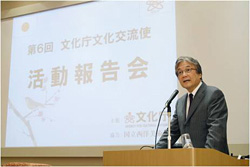 6th Japan Cultural Envoys Debriefing Session 1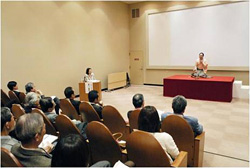 6th Japan Cultural Envoys Debriefing Session 2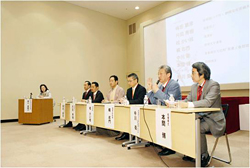 6th Japan Cultural Envoys Debriefing Session 3