On February 28th, 2011, the Agency for Cultural Affairs held the 8th Japan Cultural Envoys Debriefing Session at the Auditorium of the Heiseikan, Tokyo National Museum.
The Agency for Cultural Affairs has been appointing people committed to cultural activities, such as artists, cultural specialists and so on, as "Japan Cultural Envoys." This undertaking aims to deepen the international community's understanding of Japanese culture, and to build connections between artists and cultural experts in Japan and abroad.
In the beginning of the session, Seiichi Kondo, Commissioner for Cultural Affairs, welcomed the participants by saying, "I hope this session provides an opportunity for people to learn that Japanese culture is acclaimed overseas, and find the underlying sources of such attraction together. This can be one of the reasons to motivate the people of Japan, and inspire Japan as a country to develop a higher awareness and stronger pride in our culture."
Then, the participants heard reports from Cultural Envoys who had finished their missions overseas under the facilitation of Tamotsu Aoki, the former Commissioner for Cultural Affairs and the Special University Professor of the Graduate School of Aoyama Gakuin University. Nine Cultural Envoys reported on their activities: Takemoto Chitosedayu (Bunraku, tayu), Kyoko Ibe (Japanese paper artist), Shu Kubo (paper-cutting artist), Yasuhito Sasaki (flower artist), Shofukutei Ginpei (Rakugo specialist), Tetsuya Noda (fine art print specialist), Koji Yamamura (animator), Sogen Hachiya (successor to the head of school of incense, Kodo), and Kifu Mitsuhashi (Shakuhachi player) (listed in order of appearance). They reported on the outlines and results of the activities with demonstrations and slides. A panel discussion followed with all participants under the facilitation of Professor Aoki.
The session attracted some 140 visitors and people involved in cultural affairs, who listened to the reports with enthusiasm. The session closed with great success.
There was also an informal gathering after the debriefing session in which the Cultural Envoys met with previous Envoys, Mr. Kondo (Commissioner for Cultural Affairs), Prof. Aoki, Mr. Zeniya (Executive Director of the Tokyo National Museum), and Mr. Murata (Director-general of the Public Diplomacy Department of the Ministry of Foreign Affairs).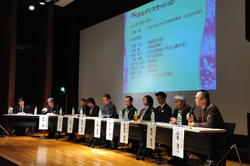 Panel discussion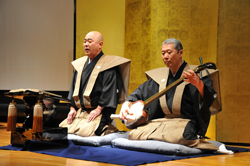 Demonstration by Cultural Envoys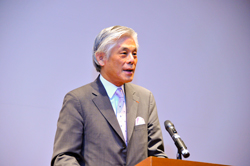 Greetings from Mr. Kondo, the Commissioner for Cultural Affairs