Japan Cultural Envoy Forum 2013: Conveying the Spirit of Japan (10th Japan Cultural Envoys Debriefing Session)
On March 8, 2013, the Agency for Cultural Affairs held the "Japan Cultural Envoy Forum 2013: Conveying the Spirit of Japan" (10th Japan Cultural Envoys Debriefing Session) at the National Graduate Institute for Policy Studies (Roppongi, Minato Ward, Tokyo).
The Agency for Cultural Affairs has been appointing people committed to cultural activities, such as artists, cultural specialists and so on, as "Japan Cultural Envoys." This undertaking aims to deepen the international community's understanding of Japanese culture, and to build connections between artists and cultural experts in Japan and abroad.
The 2013 Forum was attended by five individuals and one group (eight cultural specialists and artists in total) who were on their overseas mission from 2010 to 2012. They reported on their activities, including demonstrations and workshops, and participated in a panel discussion on promoting Japanese culture overseas.
At the beginning of the session, Seiichi Kondo, Commissioner for Cultural Affairs, welcomed the participants and said, "This is the tenth year for the Cultural Envoys Program. 94 people, 2 groups, and 20 organizations have spread Japanese culture overseas and created networks with local cultural specialists and artists. I hope this Forum provides an opportunity for the Cultural Envoys to share their views and concerns on Japanese culture." Professor Emiko Kakiuchi explained the purpose of the Forum on behalf of co-organizer, the Cultural Policy Program of the National Graduate Institute for Policy Studies. Then, Cultural Envoys reported on their activities with demonstrations and videos.
Cultural Envoys and their reports are outlined below (Listed in order of appearance).
Fuyuki Enokido (Ikuta-school Koto player)
Fuyuki Enokido had stayed in Germany, Austria, and the United Kingdom from May to August 2012, where she performed and demonstrated Koto. She introduced her activities as a Cultural Envoy with a live Koto perfomance.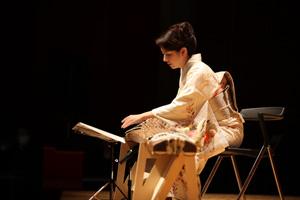 [Ms. Enokido playing the Koto]
AUN&HIDE (Japanese traditional instrument players, Ryohei Inoue, Kohei Inoue and HIDE)
AUN&HIDE had stayed in Thailand, Laos, Vietnam, and Cambodia from December 2011 to February 2012, where they performed their music with traditional Japanese instruments and held hands-on workshops. At the Forum, they reported on their activities as Cultural Envoys with video footage followed by a music performance using chappa (Japanese cymbals), shionobue (flute), and shamisen.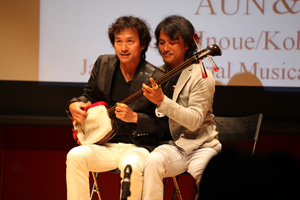 [
Shamisen
performance by AUN (Ryohei and Kohei Inoue)]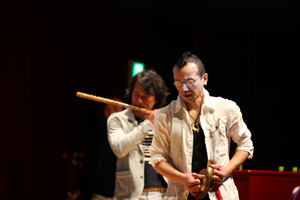 [
Shinobue
and
chappa
performance by AUN&HIDE]
Rogen Ebihara (Sumi ink artist, calligrapher)
Rogen Ebihara had stayed in Italy from January to February 2013. He performed calligraphy demonstrations and held calligraphy workshops. At the Forum he explained his activities as a Cultural Envoy by showing video footage of his mission.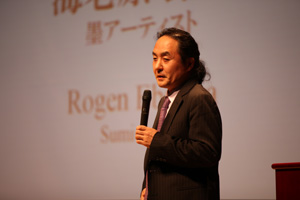 [Mr. Ebihara reporting on his activities with a video]
Mae Fujima (traditional Japanese dancer)
Mae Fujima had stayed in China from September 2010 to July 2011 to perform and hold workshops on traditional Japanese dance. At the Forum, she showed the audience a video documentary of Chinese students she taught during her mission and talked about the potential of international cultural exchange.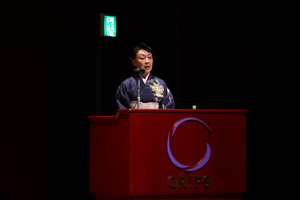 [Ms. Fujima talking about her activities in China]
Naoyuki Manabe (Gagaku performer, composer)
From May 2011 to May 2012, Naoyuki Manabe had stayed in Germany, the Netherlands, Belgium, Austria, Switzerland, France, Italy, Czech Republic, Sweden, Russia, Belarus, and Serbia where he performed Sho and jointly produced music. At the Forum, he talked about his joint production with local composers and performed his specialty sho music.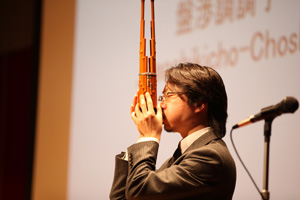 [Mr. Manabe playing the Sho]
Manjiro Tatsumi (Noh performer)
Manjiro Tatsumi had stayed in Korea from January to April 2012. His local activities include Noh performances, classes, lectures, and coaching. At the Forum, he held a workshop on Noh acting with the audience and other participants.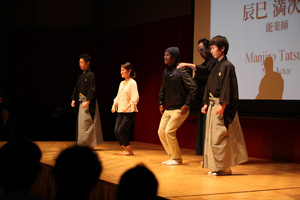 [
Noh
workshop by Mr. Tatsumi with audience]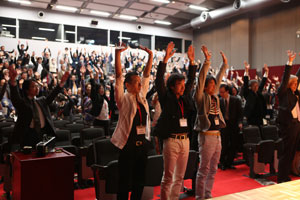 [Audience enjoying the workshop by Mr. Tatsumi]
Following the activity report, Yasuko Ogiwara, the Executive Secretary of the Association for Corporate Support of the Arts, facilitated a panel discussion. In the discussion, panelists shared their views on their experiences including these statements, "Cultural Envoy activities renewed my awareness of the real strength of culture," "More cultural specialists and artists should experience this Cultural Envoy program," and "Japanese people need to learn about Japanese culture."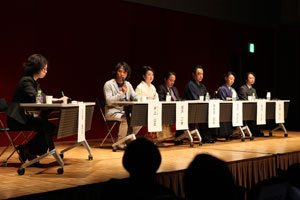 [Panel discussion]
The Forum was attended by 210 people from over 20 countries including officials from embassies and international students from the National Graduate Institute for Policy Studies. The Forum itself was a Cultural Envoy activity for introducing Japanese culture to foreign nationals living in Japan.
The Forum can be viewed on the MEXT YouTube channel.
MEXT YouTube channel: http://www.youtube.com/user/mextchannel