Japan Cultural Envoy Forum 2014: Conveying the Spirit of Japan (11th Japan Cultural Envoys Debriefing Session)
On February 28, 2014, the Agency for Cultural Affairs held the "Japan Cultural Envoy Forum 2014: Conveying the Spirit of Japan" (11th Japan Cultural Envoys Debriefing Session) at the National Graduate Institute for Policy Studies (Roppongi, Minato Ward, Tokyo).
The Agency for Cultural Affairs has been appointing people committed to cultural activities, such as artists, cultural specialists and so on, as "Japan Cultural Envoys". This undertaking aims to deepen the international community's understanding of Japanese culture, and to build connections between artists and cultural experts in Japan and abroad.

The Japan Cultural Envoy Forum 2014 welcomed six culture specialists and artists who finished their missions overseas in 2012 and 2013. They reported on the demonstrations and workshops they offered overseas.

The session was opened by a Koto performance by Miho Yamaji, who was a Cultural Envoy in FY2012, and the Cultural Envoys reported on their activities after an opening address by Masanori Aoyagi, the Commissioner for Cultural Affairs, and Masahiro Konno, Executive Advisor to the President of the National Graduate Institute for Policy Studies.
Outlined below is a summary of the participating Cultural Envoys and their reports at the session (listed in order of appearance).
Miho Yamaji (Koto/Shamisen Player)
Miho Yamaji visited nine European countries, including Russia, between January and June 2012. She reported on the lectures and lessons on traditional Japanese music she offered and the recitals she held throughout Europe with photos and videos. She and Bondarchuk Pavel whom she taught at the Conservatory in Russia performed music at the Forum.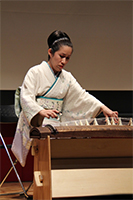 Opening performance by Ms. Yamaji.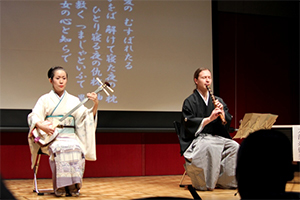 Joint performance of
Kurokami
with Mr. Pavel
Shuhei Hasado (Plaster Craftsman)
Shuhei Hasado stayed in New York, the United States, from October to November, 2012. His activity report included an introductory video on his work which he made before his departure, a video documenting his mission in New York, and photos of his show held at a gallery in Chelsea, New York.
Mr. Hasado reported on his activities with a video.
Narumi Osawa (Igo/Shogi Specialist)
Narumi Osawa stayed in the United States and Brazil from March to May, 2012. She reported on her cultural exchange with photos of coaching games and lectures held at various locations.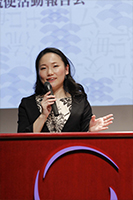 Activity report by Ms. Osawa
Souun Takeda (Calligrapher)
Souun Takeda stayed in Vietnam and Indonesia from July to August, 2012. He introduced his activities using photos of calligraphic performances and practical training sessions he offered in various locations.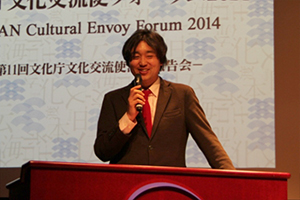 Mr. Takeda talking about activities in Vietnam and Indonesia
Masashi Hirao (Bonsai Specialist)
Masashi Hirao visited 12 countries between June and October, 2012. After showing a video from the countries he visited, he gave a bonsai lecture with photos. He also reported on the state of bonsai abroad that he experienced during his mission as a Cultural Envoy.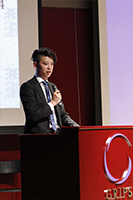 Mr. Hirao reports on his activities with a video.
Novmichi Tosa (President of the Art Unit, Maywa Denki)
Novmichi Tosa stayed in France from June to July, 2012. He presented a stage performance, ROBOT! produced in collaboration with a France-based choreographer, Blanca Li. Following the activity report, he gave a performance of the show he hosted at the Japan Expo using original musical instruments invented by Maywa Denki. Participants and audience members also greatly enjoyed his collaborative performance with Miho Yamaji.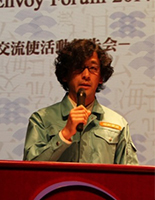 Activity report by Mr. Tosa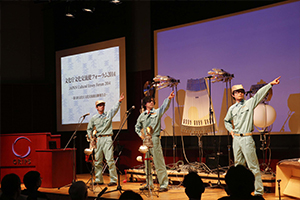 Performance by Maywa Denki
In the Question and Answer session at the end, visitors shared their views on Cultural Envoys saying that they were able to see different sides of the Cultural Envoys. Some expressed their wish that even more young Japanese people would spread Japanese culture overseas. The session ended with great success.
Q&A session
View the Forum on the MEXT YouTube channel.
Video resource: MEXT YouTube channel: Part I , Part II