September 1, 2015
Aiming for a visual history textbook
Kyushu National Museum 10th Anniversary Special Exhibition - Japan, Country of Beauty
Takashi Kusui, Kyushu National Museum
On October 16, 2005, the Kyushu National Museum opened in Dazaifu, with high expectations and support from members of the community. The museum was built with the aim of looking at the history of Asian-Japanese cultural exchange. Our slogan was "More fun than the classroom, easier to understand than a textbook," and we have worked to make a museum that can be enjoyed by everyone.
We welcome our 10th anniversary this fall, and plan to open a Special Exhibition, "Japan, Country of Beauty," in commemoration of this anniversary.
Japanese people in the past admired the advanced culture and new items of foreign countries and selectively incorporated them into their own lives. This ingenious incorporation with existing culture gave birth to a new beauty of Japan. This exhibition features famous Japanese art from the Jomon Period to the Kamakura Period, and allows you to look at how the "Beauty of Japan" has matured. Additionally, we introduce the unique artwork from the surrounding chain of islands including Ryukyu and Ezo.
In proceeding with this project, we always kept the history textbook in mind. We tried to collect famous works of art usually found in history textbooks, special features of historical objects, and on stamps as illustrations. We tried to bring the history textbook to life - a visual representation of the textbook. Through Shosoin treasures such as flamed earthenware, "spaceman" clay figures, paintings on bell-shaped bronze vessels, and mother-of-pearl and sandalwood five-stringed biwa, to writings by Wang Xizhi and Sanseki, beautiful Buddhist paintings, and life-like portrait sculptures, we hope that you will take an interest in the development of Japanese culture and history in Eastern Asia.
The people of Ryukyu and Ainu also developed their own, unique history and culture through interactions with other Asian countries and the main Japanese island. However, it is rare to see the beauty of the art of these people in textbooks. By looking at the beauty of Ryukyu and Ainu, we hope to redefine "Japan, Country of Beauty." The Kyushu National Museum has always regarded the culture of Ryukyu and Ainu with importance, and we will continue to do so in the coming decade.
Japan has a long history of developing unique art through cultural exchange with various countries in Asia. You could say that it is a history of Japan's respect towards other Asian cultures. We hope that you will be able to see that through this exhibition.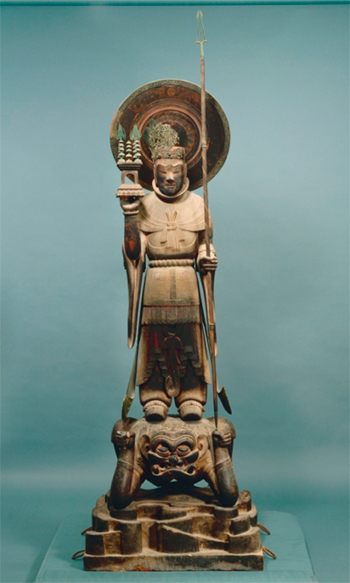 National Treasure
Standing statue of Vaisravana (one of the Four Devas) (in main hall)
Asuka Period, 7th century
Horyu-ji collection, Nara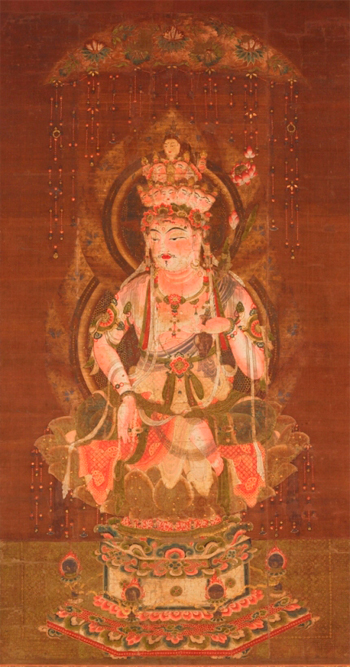 National Treasure
Statue of the eleven-faced Goddess of Mercy
Heian Period, 12th century
Nara National Museum collection
(Exhibition Period: November 10 to 29)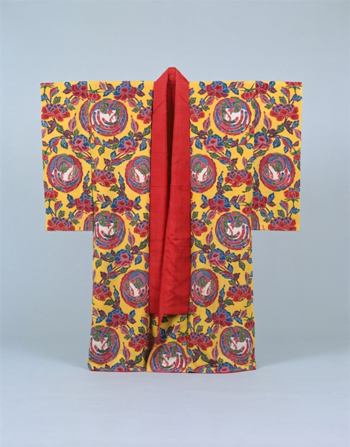 National Treasure
Lined constume in Bingata dyeing (Ryukyu King Sho Family Related Documents)
Second Sho Dynasty Period, 18-19th century
Naha City collection, Okinawa
(Exhibition Period: November 5 to 15)
Kyushu National Museum
4-7-2 Ishizaka, Dazaifu City, Fukuoka 818-0118
Telephone :

050-5542-8600 (8:00 to 22:00, open all year round)

Access :

By train:

Nishitetsu Train: From Nishitetsu Fukuoka (Tenjin) Station, take the Nishitetsu Tenjin-Omuta line, (13 min. by limited express or 17 min. by express), change trains to Nishitetsu Dazaifu Line at Futsukaichi Station then get off at Nishitetsu Dazaifu Station (5 min.) and walk (approx. 10 min.)
* No extra charge for both limited express and express
JR: From JR Hakata Station, take the JR Kagoshima Main Line to Futsukaichi Station (15 min.) then walk (12 min.) or take the bus (5 min.) to Nishitetsu Futsukaichi Station, take the Dazaifu Line from Nishitetsu Futsukaichi Station

By car:

[By Kyushu Expressway] Get off at the Dazaifu Interchange or Chikushino Interchange, head toward Dazaifu Tenmangu via Takao intersection (approx. 20 min.)
[By Fukuoka Urban Expressway] Get off at the Mizuki exit, head toward Dazaifu Tenmangu via Takao intersection (approx. 20 min.)

By taxi:

From JR Futsukaichi Station (approx. 15 min.) or from Fukuoka Airport (approx. 30 min.)

By bus:

Get on a Nishitetsu bus bound for Daizaifu Station at the Hakata Bus Terminal, get off at Nishitetsu Dazaifu Station bus stop (approx. 40 min.), and walk (approx. 10 min.)

Museum Hours :

9:30-17:00 (last admission: 16:30)

Holidays :

Mondays (if a Monday is a national holiday, the museum opens that Monday and closes on the following Tuesday), year-end period
10th Anniversary Special Exhibition
Japan, Country of Beauty
Exhibition Duration :

October 18 to November 29 (closed on November 4, 9, and 16)

Museum Hours :

9:30 to 17:00 (last admission 16:30)

Location :

Special Exhibit Room, 3rd floor

Admission :

General admission: 1600 (1400) yen
High school/University students: 1000 (800) yen
Primary/middle school students: 600 (400) yen
*Fees in parentheses indicate group rates (for groups larger than 20) or advanced ticket prices
*Admission to the Cultural Exchange Exhibit (regular exhibit) is included in the admission fee above
*Admission is free for those with a handicapped person's passbook and their caregiver (please see the website for further details)
*General advanced ticket prices apply for seniors over 65. Please be sure to show your ID (health insurance certificate or driver's license) when purchasing your ticket.
*Campus members can purchase tickets at group rates. Please show your student ID or faculty ID card when purchasing your ticket.

Website

Kyushu National Museum Website
http://www.kyuhaku.com/
Kyushu National Museum 10th Anniversary Special Exhibition "Japan, Country of Beauty" Website
http://binokuni2015.jp/