September 1, 2015
Opera is a fusion of music and drama
Takashi Kuwahara, New National Theatre, Tokyo
Opera is thought originate from Florence, Italy in the 1600s. At the time, Greek theatre was being shown in Italy, and the addition of music (musical theatre) gave birth to modern-day opera. In other words, opera is "a lyrical transformation of theatre script performed on stage."
In order for an opera to be complete, the composer must first look for an original drama suited for the opera. Once the selection is made, a script is produced. Once the script is complete, the music will be composed.
In Japanese folklore, there is a story called "The Grateful Crane." A drama called "Yuuzuru (Evening Crane)" based on "The Grateful Crane" was written by Junji Kinoshita, and the composer in charge of the drama was Ikuma Dan. Mr. Dan was thoroughly impressed with the drama and decided to create an opera, under one condition from Mr. Kinoshita that nothing about the script be changed. The completed opera is Ikuma Dan's Yuuzuru.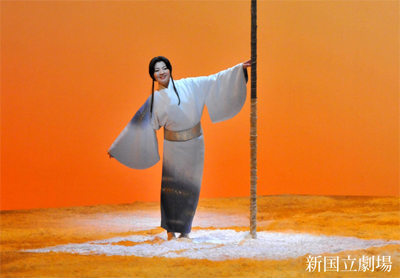 From the 2011 showing of the opera Yuuzuru (photo: Chikashi Saegusa)
July 2016 showing planned
The European operas were composed in a similar manner, when the composer saw and read brilliant works that eventually became operas.
Wagner, a German composer famous in the opera world, wrote all of his scripts. This is probably because his literary talent was highly praised from a young age. In this way, Wagner was able to complete operas with the drama and music of his choosing.
The opera "The Rhine Gold" is the first of four independent operas, which comprises the mega-opera, The Ring of the Nibelung.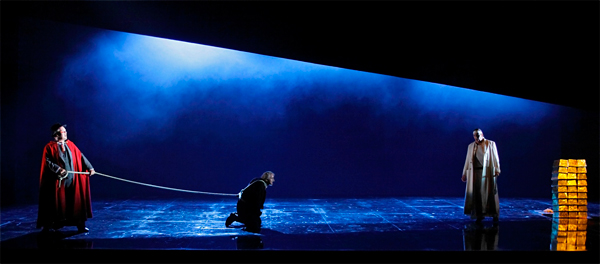 From the showing of the opera The Rhine Gold by the Finnish National Opera (photo: Heikki Tuuli)
October 2015 showing planned
The voices of successful opera singers, and those that sing at the New National Theatre have been polished through countless hours of training so that their voices reach every corner of the auditorium. Take the tenor Klaus Florian Vogt. He is scheduled to reappear in next year's May/June show of Lohengrin. His voice is like a boy soprano's: soft, smooth, and a rare sweet voice combined with his handsome looks. His shows are often sold out. I hope that you will be able to feel his voice at one of his performances.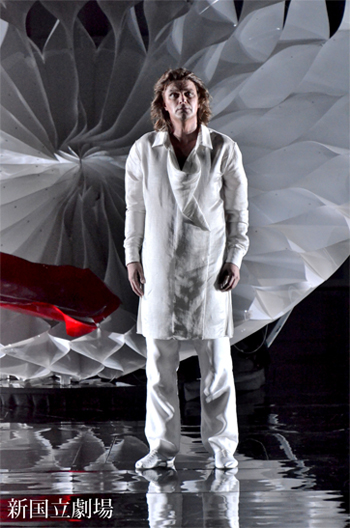 From the 2012 showing of the opera Lohengrin (photo: Chikashi Saegusa)
May/June 2016 showing planned
Please enjoy the world of song and drama, brought to life by the angelic voices of the opera singers combined with the powerful accompaniment of the orchestra. We await you at the New National Theatre with another fantastic lineup!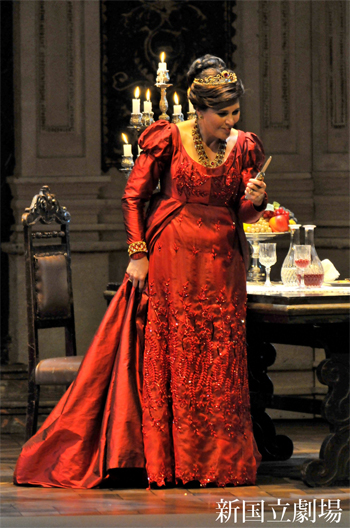 From the 2009 showing of the opera Tosca (photo: Chikashi Saegusa)
November 2015 showing planned