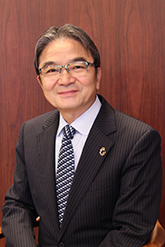 MIYATA Ryohei
Commissioner for Cultural Affairs
Metalwork artist, MIYATA Ryohei was born in 1945 in Sado, Niigata Prefecture as the third son of wax casting artist MIYATA Rando. While managing Tokyo University of the Arts as the president, he participates in both domestic and international exhibitions frequently including "MIYATA Ryohei Exhibition" (solo exhibition), displaying such a renowned series of dolphin motifs called "Springen".
He has received multiple accolades including the Japan Art Academy Prize, the Grand Prize and the Prize of Prime Minister at "Nitten (Japan Fine Arts Exhibition)," the Prize of Minister of Education and the Prize of Prime Minister at "Nihon Gendai Kogei Bijutsuten (Japan Contemporary Arts and Crafts Exhibition)".
After serving for a decade as President of the Tokyo University of the Arts, where he was also a professor and dean of the Faculty of Fine Arts, Mr. Miyata was appointed Commissioner for Cultural Affairs. He also served as chairperson of the Tokyo 2020 Emblems Selection Committee launched by the Tokyo 2020 Olympics and Paralympics Organizing Committee.
---
| | |
| --- | --- |
| NAME: | MIYATA Ryohei ( Mr.) |
| Date of Birth: | June8, 1945 |
| Current Status: | M.F.A. in Craft, Metal-Smithing, Tokyo University of the Arts |
< Biography >

| | |
| --- | --- |
| 1990 | Research Fellow at Museum Furkunst und Gewerbe, Hamburg, under the Japanese Government Overseas Research Program |
| 1996 | Visiting lecturer, Central Academy of Arts and Crafts, Beijing China |
| 1997 | Professor, Tokyo University of the Arts |
| 2001 | Dean of Faculty of Fine Arts, Tokyo University of the Arts |
| 2004 | Vice President, Trustee, Tokyo University of the Arts |
| 2005 | President, Tokyo University of the Arts |
| 2016 | Comissioner, the Agency for Cultural Affairs |
< Awards >

| | |
| --- | --- |
| 1972 | Modern Japanese Crafts Arts Exhibition, Grand Prize (Tokyo) |
| 1979 | Modern Japanese Crafts Arts Exhibition, Prize of Minister of Education (Tokyo) |
| 1981 | The Japan Fine Arts Exhibition (Nitten), Prize of Excellence (Tokyo) (1997) |
| 1985 | Seibu Arts and Crafts Exhibition, Prize of Excellence(Tokyo) |
| 1996 | International Judaica Design Competition, Third Prize (Israel) commissioned work |
| 1999 | Mycal Marine Award, The Asahi Shimbun Company |
| 2004 | Japan Copper Development Association Prize, Japan Copper Development Association |
| 2005 | Setoyama Award, Ministry of Justice |
| 2007 | Modern Japanese Crafts Arts Exhibition, Prize of Prime Minister (Tokyo) |
| 2009 | Nitten (Japan Fine Arts Exhibition), Prize of Prime Minister (Tokyo) |
| 2012 | The Japan Art Academy Prize |