The Agency for Cultural Affairs has been appointing people committed to cultural activities such as artists, cultural specialists and so on, as "Japan Cultural Envoys". This undertaking aims to deepen the international community's understanding of Japanese culture and to build and strengthen networks between Japanese and foreign artists and experts. They go abroad for a period of 1 to 12 months (1 year at the longest) to engage in performance, demonstration and instruction, speech, lecture, screening, exhibition, joint production, or information exchange.
By the end of fiscal year 2015, a total of 122 individuals, 2 groups (consisting of 5 people), and 26 organizations specializing in various fields such as traditional music, performing arts, culture and lifestyle, and pop culture had been sent abroad to 79 countries.
In FY2016, six artists and cultural specialists were appointed.
Mae Fujima (Japanese Classical Dancer), Cultural Envoy FY2010
Destination Country: China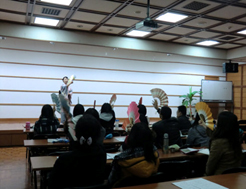 Class at the Japan Information and
Culture Center of the Embassy of Japan in Beijing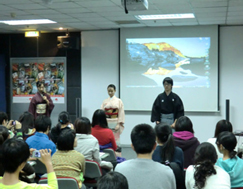 Class at the Beijing Foreign Studies University
Kenji Yamauchi (Actor), Cultural Envoy FY2010
Destination Country: France, Belgium, and Luxemburg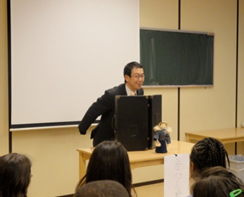 At the Soleil Public Hall, Saint-Étienne, France
[Le Moineau à la Langue Coupée, solo performance]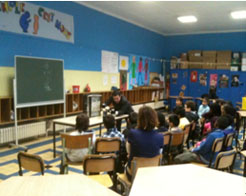 Eugene Flagey School in Brussels, Belgium
[Le Moineau à la Langue Coupée, solo performance]
Seiji Iwami (Cartoon Artist), Cultural Envoy FY2010
Destination Country: Singapore, Malaysia, Korea, United Kingdom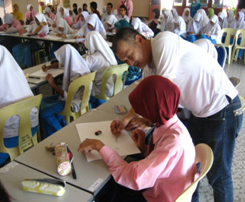 Lecture on manga
at the Malacca Junior High School in Malaysia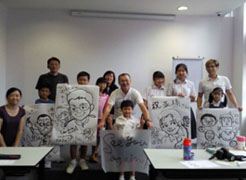 Manga workshop and demonstration for children
at the National Library, Singapore
AUN (Ryohei Inoue, Kohei Inoue, Hideyuki Saito) (Traditional Japanese Musicians), Cultural Envoy FY2011
Destination Country: Thailand, Vietnam, Laos, Cambodia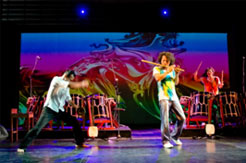 Concert at Vic Hua Hin, Thailand
Naoyuki Manabe (Gagaku Performer, Composer), Cultural Envoy FY2011
Destination Country: Germany, France, Austria, Sweden, Russia, Belgium, Netherlands, Italy, Switzerland, Belarus, Czech Republic, Serbia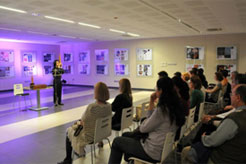 Concert in Serbia
Motohiko Shigeyama (Okura School Kyogen Actor), Cultural Envoy FY2012,
Country: Czech Republic, Austria, Rumania, Lithuania, Poland, Slovakia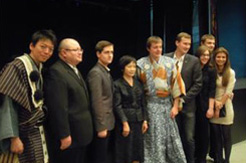 Kyogen performance in Czech Republic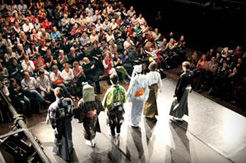 Kyogen performance in Czech Republic
Novmichi Tosa (President of Art Unit, Maywa Denki), Cultural Envoy FY2013
Destination Country: France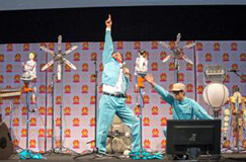 Performance at the Japan Expo in France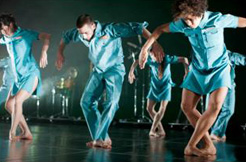 Performance at the Japan Expo in France
Hiroko Nakazawa (Food Culture Researcher, Professor at the Nagano Prefectural Junior College), Cultural Envoy FY2014
Destination Country: France, Germany, Poland, Hungary, Italy, Slovakia, United Kingdom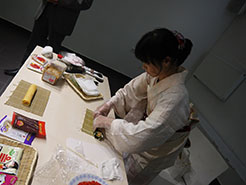 Cooking demonstration of futomaki matsuri sushi
(thick festive sushi roll)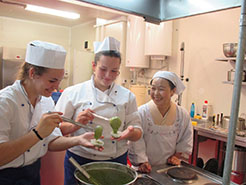 Workshop in Warsaw
Takashi Wakamiya (Producer of HIKOJU MAKIE), Cultural Envoy FY2014
Destination Country: United Kingdom, France, China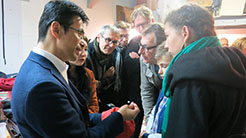 Information exchange with craftspeople in Paris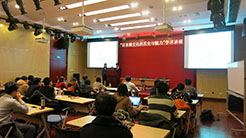 Lecture at the Peking University, China
Japan Cultural Envoys Debriefing Session (Japan Cultural Envoy Forum)
For overviews of past debriefing sessions, click the following links: